Nine Players Receive Maiden England Call-Ups For Argentina Games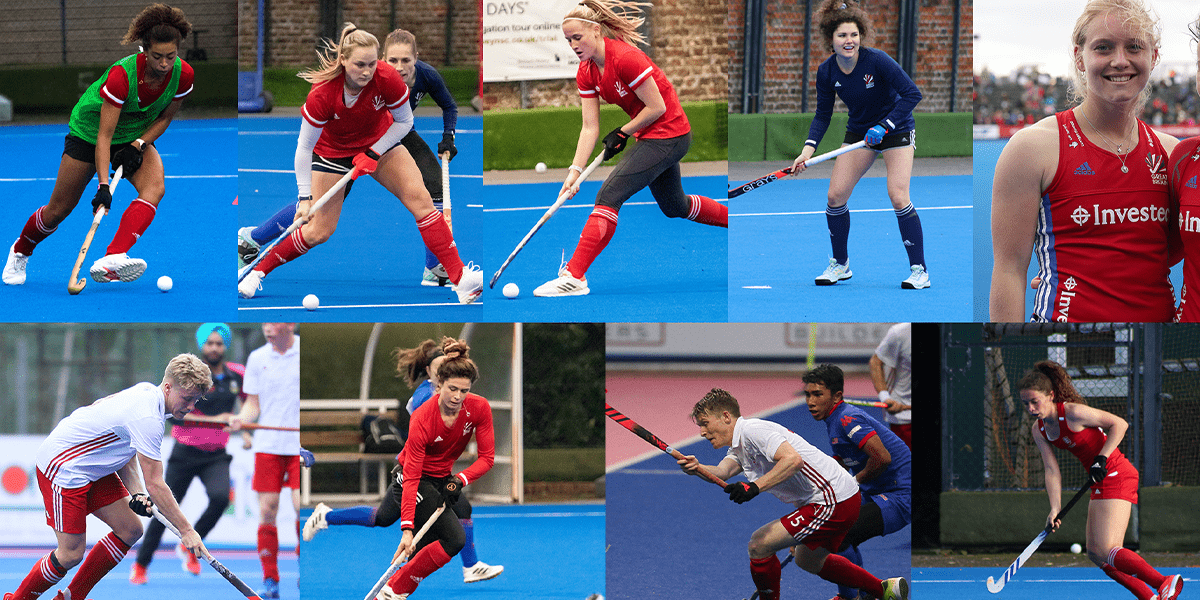 Seven players could make their senior international debuts this weekend when England's men and women take on Argentina in the FIH Hockey Pro League.
Darcy Bourne, Olivia Hamilton, Flora Peel and Martha Taylor have all been named in the women's squad for England's first games in the 2021/22 season and could make their senior international debuts. They are joined by Sophie Hamilton, Holly Hunt and Alex Malzer - all seven players having been named in the Great Britain training squads for 2022 - in the side, who could make their England debuts having already featured for Great Britain.
GB Elite Development Programme (EDP) athletes Tim Nurse and Tom Russell have been called up to the men's squad for the first time. James Mazarelo is also selected once again, having been in the team that travelled to Spain earlier this month, with all three in line to grace the international scene for the first time.
It is set to be a special weekend for Anna Toman and Hollie Pearne-Webb too, as they are due to make their 100th and 200th combined international appearances respectively.
Jack Turner has also received his first call up since 2017, while Liam Sanford could make his 50th England appearance this weekend if he features in both matches while Brendan Creed, James Gall and Sam Ward all return having not been able to play in England's games against Spain a fortnight ago.
Several players were unable for selection for both squads due to club commitments, injury and illness.
This will be the first time England's women have competed in the FIH Hockey Pro League as they replace Great Britain this season. England's men played their maiden fixtures against Spain earlier this month, winning the first game 6-1 before a last-minute goal from David Goodfield saw them emerge as 3-2 victors from the second.
Interim men's head coach Zak Jones said: "The squad is very much looking forward to upcoming games here in Argentina. The aim is to continue to build on both the momentum and the positive aspects of our performances from our first two outings against Spain.
"However, we are fully aware of the real challenge that Argentina will present, as can be seen from their recent performances in the Pan Am Cup and their two FIH Hockey Pro League games against Belgium. I am really looking forward to seeing how this young squad respond to a different environment and style of play as we continue to build and grow our game."
England's men will take on Argentina at 19:30 on Saturday 19 and Sunday 20 February, with the women following suit against the same opponent at 22:00 on the same days. All four games will be shown live on BT Sport while live updates will be provided on the England Hockey Match Centres.
James Albery – Old Georgians HC
Nick Bandurak – Holcombe HC
David Condon – Wimbledon HC
Brendan Creed – Royal Beerschot HC (Belgium)
James Gall – Surbiton HC
David Goodfield – Surbiton HC
James Mazarelo (GK) – Loughborough Students HC
Tim Nurse – Surbiton HC
Nick Park – Surbiton HC
Ollie Payne (GK) – Holcombe HC
Stuart Rushmere – Loughborough Students HC
Tom Russell – Holcombe HC
Liam Sanford – Old Georgians HC
Duncan Scott – Wimbledon HC
Peter Scott – Wimbledon HC
Rhys Smith – Wimbledon HC
Tom Sorsby – Surbiton HC
Sam Taylor – University of Exeter HC
Jack Turner – Wimbledon HC
Sam Ward – Old Georgians HC

Giselle Ansley – HGC (Netherlands)
Grace Balsdon – Hampstead & Westminster HC
Darcy Bourne – Surbiton HC
Esme Burge – Hampstead & Westminster HC
Fiona Crackles – Wimbledon HC
Olivia Hamilton – Loughborough Students HC
Sophie Hamilton – Surbiton HC
Sabbie Heesh (GK) – Surbiton HC
Holly Hunt – Hampstead & Westminster HC
Jo Hunter – Buckingham HC
Alex Malzer – East Grinstead HC
Hannah Martin – THC Hurley (Netherlands)
Lizzie Neal – Canterbury HC
Hollie Pearne-Webb (C) – Wimbledon HC
Flora Peel – HDM (Netherlands)
Ellie Rayer – East Grinstead HC
Martha Taylor – University of Exeter HC
Amy Tennant (GK) – Reading HC
Anna Toman – SCHC (Netherlands)
Laura Unsworth – East Grinstead HC