Great Britain Hockey Talent System Framework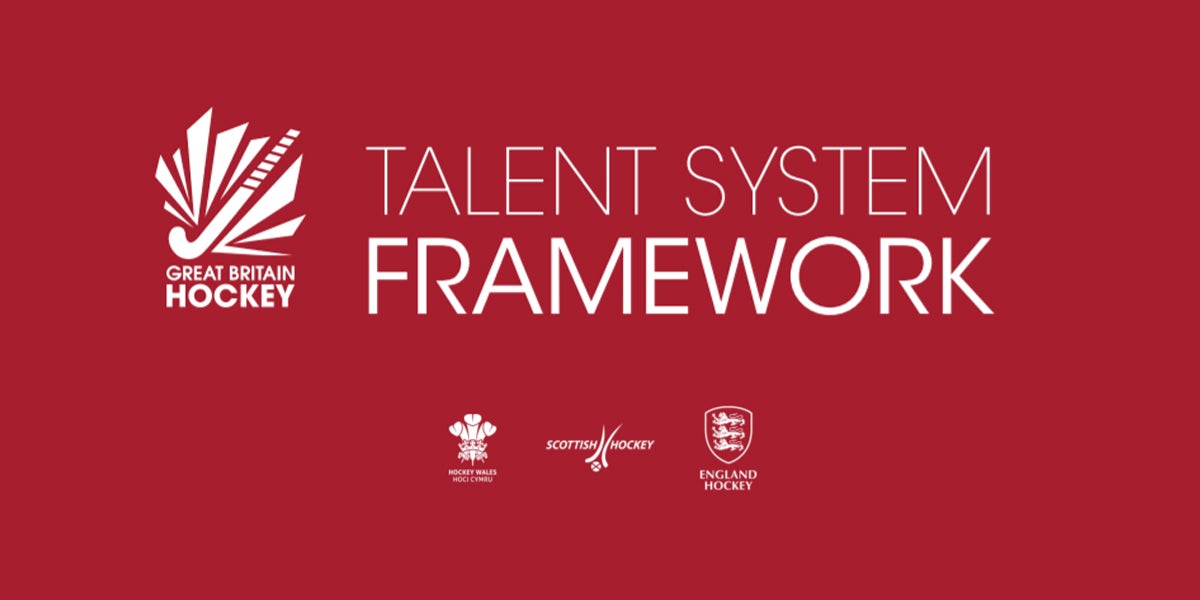 The Great Britain Hockey Talent System Framework provides the sport with an in-depth reference point for the decision making in the development of Talent within hockey.
It provides a common language and a clear understanding for all stakeholders as we all work together to deliver a phenomenal 'talent pipeline' of players through exceptional talent development experiences and a talent identification and development system which attracts and excites young people irrespective of their background.
The Talent System Framework is an evolution of the Talent Development Framework, providing greater clarity of the ideal experiences and environments that will support a players journey through the Talent System.
The purpose hasn't changed – the framework has evolved to offer a more detailed reference and support system for all those operating in the Talent System.
All Home Nations Talent and Coaching teams have contributed to the development of the TSF and there have been key contributions from Talent and Performance Coaches and current and ex-players from across GB.
Each Home Nation National Governing Body (NGB) will align to the Talent System Framework and apply it through their lens, based on their own priorities and needs.
So what's new/different?
Definition of Talent - We will all have our own definitions of what talent is. Having a shared definition and understanding is not just an academic exercise, it is a fundamental piece of the puzzle that sits behind talent. It is something to come back to when we encounter problems and have decisions to make.
Talent Stories / Journey - Every single player who has pulled on a GB or Home Nation shirt for an official cap has a different talent journey and we hear from four players with different journeys and different experiences.
Player Experience Model - A priority for the Talent System is to keep the player at the centre and the Player Experience Model outlines the ideal experience, 'where a player is thriving' in their environment. This can be used to underpin the RARE (right athlete right environment) principle when considering which environment is best for a child.
Complete Player Profile – After extensive consultation with numerous performance and talent coaches and past and present players (female and male, including many of the Rio and Seoul Olympic Gold Medallists) a consensus of THE COMPLETE PLAYER and what it takes to be a future Great British Hockey Squad member has been collated.
Hockey Intelligence – Increased Hockey Intelligence to support a players understanding of the game and the highly skilled actions required to support a players development within the Talent System. New Hockey Intelligence content is available on the Hockey Hub for all coaches, players and parents.
Understanding that operating within the Talent System can be complex and recognising the significant detail within the Talent System Framework we encourage all to read and digest the framework whilst we focus on helping bring the Talent System Framework to life. To do that we are committed to:
Facilitating and sharing good practice from the sport, against key sections of the Talent System Framework.
Providing a suite of engagement opportunities to better understand, reflect and support player development through the talent system.
Develop relevant resources to help all involved in the Talent System put the player at heart.
Heather Williams, GB and England Head of Talent Development commented 'I'm delighted that we are launching the Talent System Framework, I believe it provides a helpful reference for anyone interested in talent development and supporting high potential young players.
It's been a massive collaborative effort over the last two years with insight from a wide range of current and former international coaches and players from all Home Nations and other experts in talent development – my thanks to everyone who has contributed.
This is really just the start, we are building a library of video footage to support the hockey intelligence section and we are looking forward to working with clubs, coaches, schools to help them use the resources and apply the principles in their own environments as we implement the England new talent strategy: Talent Development – A New Way Forward.'