Hockey Museum and GB Hockey Award Caps to 130 Ex-Players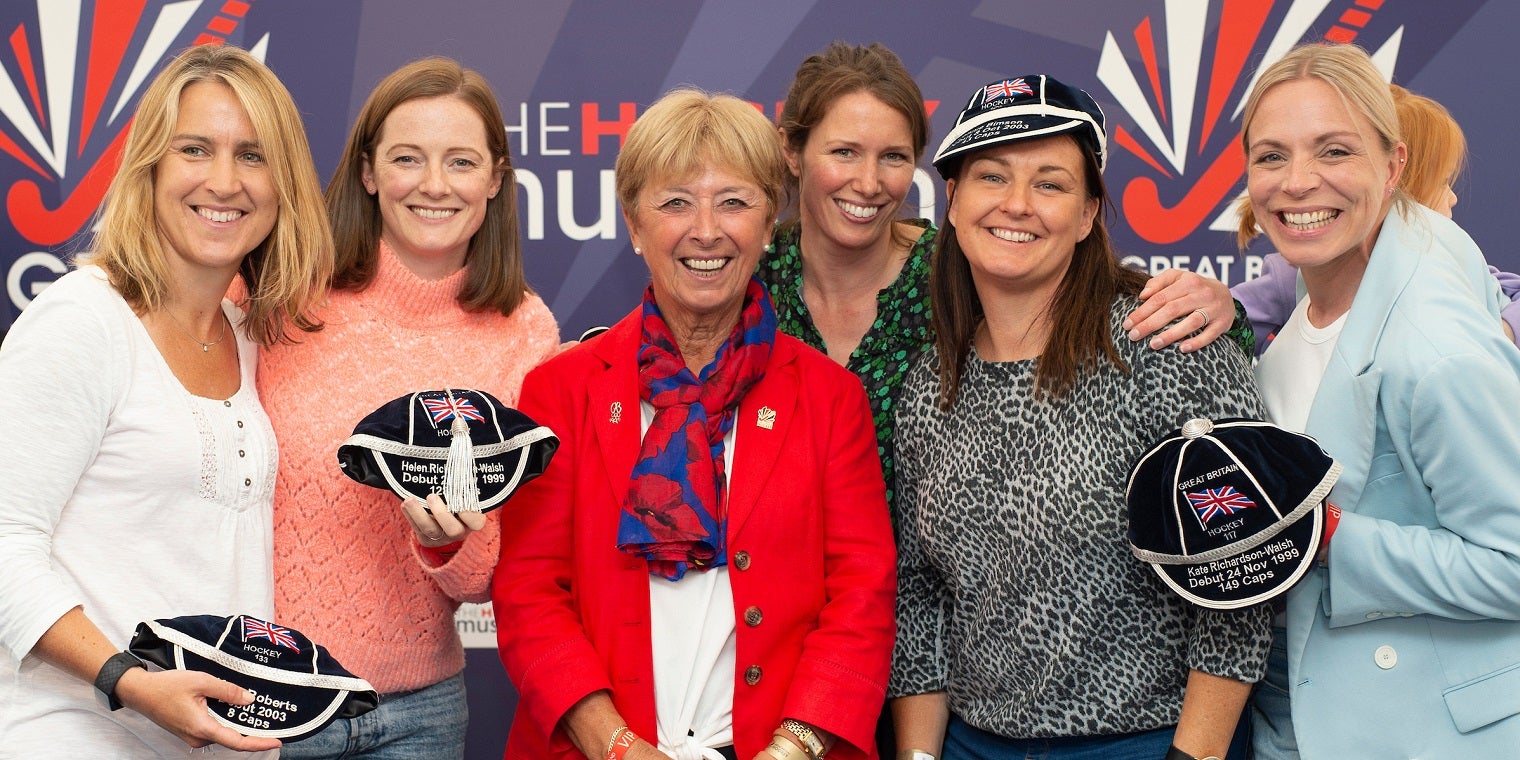 During the Queen's Platinum Jubilee weekend, 130 former Great Britain (GB) hockey players came together across two days at Lee Valley Hockey and Tennis Centre to receive their GB Honours caps.
In special ceremonies jointly organised by the Hockey Internationals' Club (HIC), Great Britain Hockey (GBH) and The Hockey Museum (THM), each player was presented with a carefully embroidered cap by GBH President and former GB and Wales player Sheila Morrow. Each honours cap – produced by THM and financed by GBH – bears the name, debut date, appearance total and the unique player number of each GB international. The ceremony was hosted by three-time hockey Olympian Simon Mason.
We believe this was the largest ever gathering of GB hockey players in one place. Quite an organisational feat!
It was a wonderful event for other reasons, too. Players who had not seen each other in years reunited; generations mingled, laughed and shared stories. Above all else, there was an overwhelming sense of pride.
The Research
For the past six years, THM's Statistics Working Group (comprised entirely of volunteers) has been busy researching, cross-referencing and collating a definitive database of GB international matches and the players who competed in them. Tens of thousands of hours have been spent tinkering with spreadsheets and trawling through match reports in magazines and newspaper archives, as well as through selection books, personal scrapbooks, official match sheets and other fascinating sources of information held in the Museum's collection stores in Woking.
Decisions, too, were made around what does or does not count as an official match, the criteria for which was hammered out by the Working Group in hours of meetings with GBH, HIC and athlete representatives. This has led to the discovery of new GB teams for both the men and the women. The first GB men's team and players are confirmed as the Olympic hockey of 1920 (previously thought to be an England team); the first GB women's team is now recognised as the GB & Ireland Touring Team to the USA in 1965.
First GB Men's Team: https://www.hockeymuseum.net/index.php/newsitems/news-2020/129-news/n-2020/473-a-golden-centenary
First GB Women's Team: https://www.hockeymuseum.net/index.php/newsitems/news-2020/129-news/n-2020/483-born-in-the-usa
Without this work to create definitive records, it would have been impossible to assign player numbers to GB hockey players past and present. A complete dataset simply did not exist. Yet with the establishment of THM in 2011 and the gradual expansion of its collection and record-keeping, enough sources of information were brought together under one very special roof. THM is a one-of-a-kind resource for hockey unlike anywhere else in the world.
Now, with every match and player accounted for, hockey can share with its athletes their own unique numbers – their own indisputable position in the canon of hockey excellence.
To summarise what this means to the players, current GB international Ellie Rayer (women's player no. 193) stated the following when receiving her cap prior to the Tokyo Olympic Games:
"I currently wear number 13, but I am merely looking after the number for the moment. 193 is my number and it always will be, which is incredibly special. A huge, huge thank you for the work you have done."
-- Ellie Rayer #193
What Next?
Approximately half of the honours caps available to the 581 GB hockey players are still to be presented, either to the athletes themselves or to their descendants. THM does not anticipate being able to trace and more than 150 of these, but if you think you know of a player missing their GB cap, please contact THM to express your interest.
Meanwhile, at THM the Stats Group's work continues. The Museum has active projects seeking to compile definitive records for England men and women – an even bigger job going back further in time to the 1890s – England U21s, umpires' records, and the National League. We are also supporting work in Scotland and Wales. Perhaps some of these, too, will result in honours cap presentations. If you think you can assist and help to realise days like those held at Lee Valley Hockey and Tennis Centre, please get in touch.
Contact The Hockey Museum using the website form: https://www.hockeymuseum.net/index.php/contact-us