Scotland Women To Face Ireland In Belfast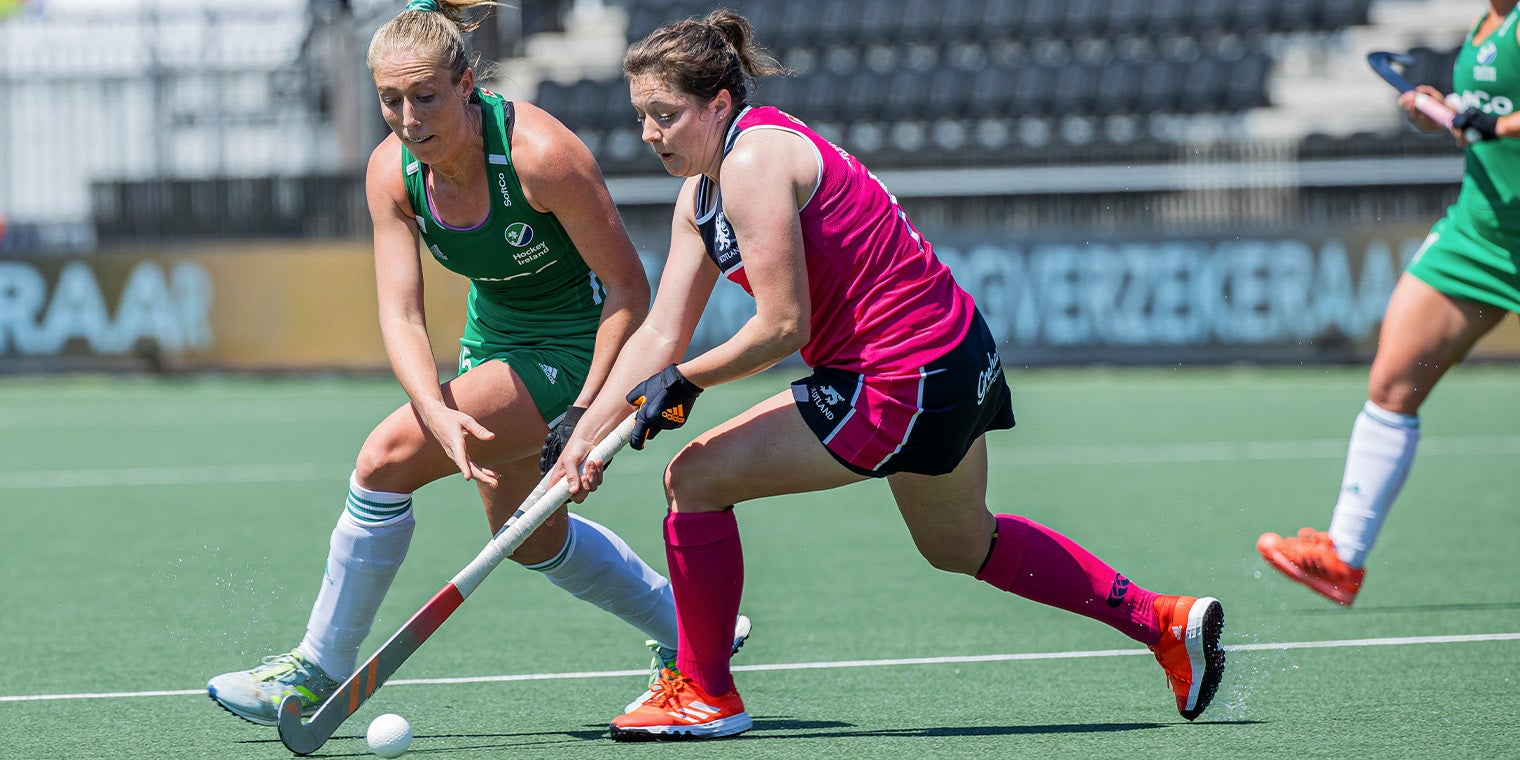 Scotland women have three test matches against Ireland this weekend in Belfast as part of preparations for this summer's Commonwealth Games in Birmingham, and the EuroHockey Championships qualifier in Dunkirk.
The games against Ireland will be played on Saturday 30 April at 5pm; Sunday 1 May at 5pm; and Tuesday 3 May at 11am, and will see the Scots get some competitive match time as a huge summer of exciting tournament action comes into view.
At the upcoming Commonwealth Games in Birmingham Scotland has been drawn in Women's Pool B with Australia; New Zealand; South Africa; and Kenya.
Straight after the Commonwealth Games the Scots head to Dunkirk for a EuroHockey Championships qualifier, where they will compete for a place at the top table of European hockey. At the tournament Scotland will take on France; Switzerland and Austria on 24-27 August.
Ireland are ranked eighth in the world and are looking ahead to July's Hockey World Cup in Spain and the Netherlands, where they will look to emulate their 2018 finalist success, which saw them win an exceptional silver medal.
The matches this weekend will be a great test for Scotland against an Ireland side entering the final phases of their World Cup preparations.
Head Coach Chris Duncan said, "Since beginning our programme we have been trying to raise our standards and integrate and evolve a new playing style. The work we have done so far has been really pleasing and I am exceptionally proud of the group for how they have applied themselves during all of our training so far.
"We have been able to select a strong group to travel and are excited to see how they gel over three games. Ireland are an excellent side, and are well established on the world stage. They are building towards the World Cup in the summer so are going to be a brilliant test for us as we look to implement our new approaches in a competitive setting."
Squad
| | |
| --- | --- |
| Amy Costello | The University of Edinburgh |
| Becky Ward | Western Wildcats |
| Bex Condie | University of Birmingham |
| Bronwyn Shields | Clydesdale Western |
| Charlotte Watson | Loughborough University |
| Ellie Wilson | Watsonians HC |
| Eve Pearson | The University of Edinburgh |
| Fiona Burnet | Wimbledon |
| Fiona Semple | Clydesdale Western |
| Heather McEwan | Royal Victory |
| Jennifer Eadie | Wimbledon |
| Jess Buchanan | Athletic Terrassa |
| Jess Ross | The University of Edinburgh |
| Kate Holmes | Western Wildcats |
| Katie Robertson | The University of Edinburgh |
| Laura Swanson | Der Club An Der Alster |
| McKenzie Bell | Uddingston HC |
| Millie Steiger | Clydesdale Western |
| Nicki Cochrane | Wimbledon |
| Robyn Collins | Surbiton HC |
| Sarah Jamieson | Watsonians HC |
| Sarah Robertson | Hampstead & Westminster |