Tickets on sale now for Great Britain's Pro League home games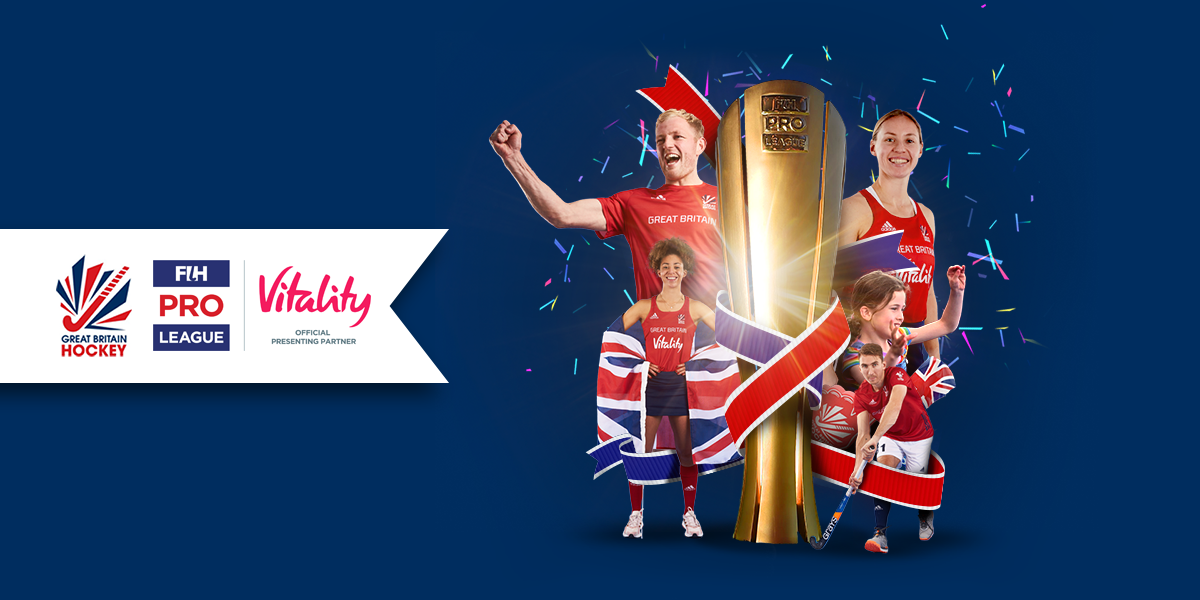 Want to watch Great Britain's men and women take on the world's best hockey teams in London? Early bird discounted tickets are on sale now for Britain's FIH Pro League home matches in 2023!
Britain play in two mini-tournaments in London in May & June, facing the likes of India, Belgium and Germany at Lee Valley Hockey and Tennis Centre. These are Britain's only scheduled home games in 2023 and a vital part of preparations for the Paris 2024 Olympics.
This window gives ticket buyers access to the best seats at the lowest prices. We're launching sales as early as we can to give clubs, families and schools the best opportunity to plan ahead.
Prices have been set to make our cheapest tickets accessible and affordable. A matchday ticket to watch two games starts at only £5 for under 18s and £15 for adults in this early bird window. There are a total of 8,000 extra seats in the cheapest category compared to 2022's matches.
There will be excitement both on and off the pitch as fans from across the country come to the Queen Elizabeth Olympic Park for this festival of hockey. Young supporters will again be able to play on the pitch between matches and a number of our midweek sessions are perfect for school groups.
Weekend and tournament passes are available, while we have introduced a new option to add Premium Experiences or Mascot packages to any ticket type, meaning an adult Premium Experience starts at £75.
Go to www.greatbritainhockey.co.uk/tickets to purchase, act quickly to secure the best seats.

Fixtures

Mini-tournament 1
26 May – 4 June
Men's – Fri 26 May 2023 - 14:30 - Belgium v China
Women's – Fri 26 May 2023 - 17:00 - Great Britain v China
Men's – Sat 27 May 2023 - 12:30 - Great Britain v India
Women's – Sat 27 May 2023 - 15:00 - Belgium v China
Men's – Sun 28 May 2023 - 12:30 - Great Britain v Belgium
Women's – Sun 28 May 2023 - 15:00 - Great Britain v Belgium
Men's – Fri 2 June 2023 - 14:30 - India v Belgium
Women's – Fri 2 June - 17:00 - Great Britain v China
Men's – Sat 3 June - 12:30 - Great Britain v India
Women's – Sat 3 June - 15:00 - China v Belgium
Men's – Sun 4 June - 12:30 - Great Britain v Belgium
Women's – Sun 4 June - 15:00 - Great Britain v Belgium
Mini-tournament 2
16-21 June
Women's – Fri 16 June 2023 - 12:30 - Great Britain V Germany
Men's – Fri 16 June 2023 - 15:00 - Netherlands v Spain
Women's – Sat 17 June 2023 - 12:30 - Netherlands v USA
Men's – Sat 17 June 2023 - 15:00 - Great Britain v Germany
Women's – Sun 18 June 2023 - 12:30 - Great Britain v USA
Men's – Sun 18 June 2023 - 15:00 - Great Britain v Spain
Men's - Mon 19 June 2023 - 17:30 - Spain v Netherlands
Women's - Mon 19 June 2023 - 20:00 - Great Britain v Germany
Men's - Tue 20 June 2023 - 12:00 - Great Britain v Germany
Women's - Tue 20 June 2023 - 14:30 - USA v Netherlands
Men's - Wed 21 June 2023 - 17:30 - Great Britain v Spain
Women's - Wed 21 June 2023 - 20:00 - Great Britain v USA
Go to www.greatbritainhockey.co.uk/tickets to purchase now