Ten-Strong Team Ready For Special Olympic World Games Debut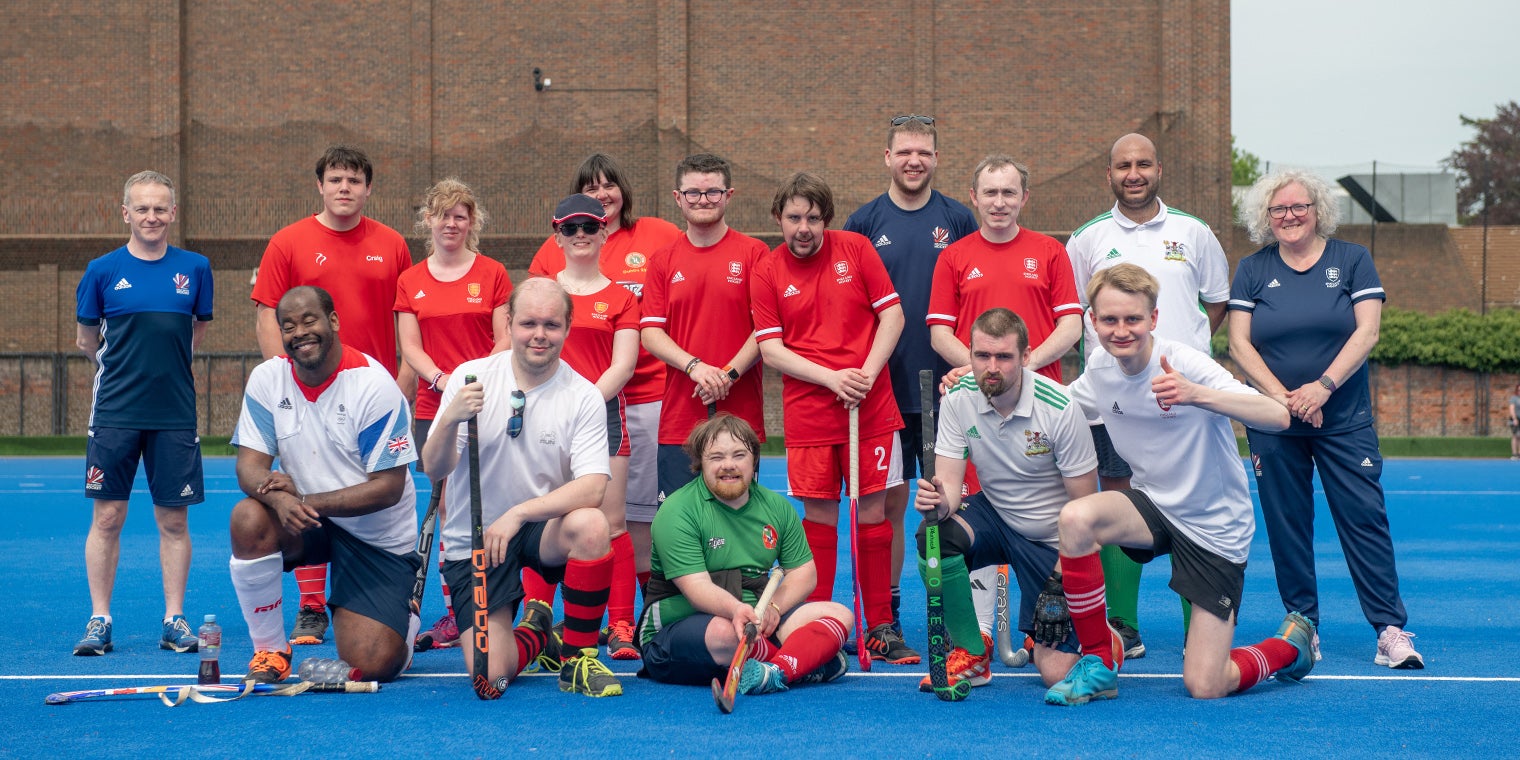 The Special Olympics GB Hockey Team is putting the finishing touches to their preparations ahead of their debut at the World Games in Berlin which take place from 17 – 25 June.
The 10 athletes will travel to Berlin as part of the first British team to compete at the Games as the Special Olympics includes hockey as a demonstration sport with the hope that the sport will be included in future years.
The team includes a mix of youth and experience with six athletes making their international debut and Jacob Fairweather has been selected as the captain of the team.
Hockey is one of 26 sports in the programme for the Berlin 2023 Special Olympics World Games, with 13 teams set to compete, including Netherlands, Germany, Paraguay and Egypt. The Opening ceremony will be staged at the iconic Olympiastadion Berlin on 17 June.
Ahead of the competition, Head Coach Steven Bradley, said: "This will be the first time that Hockey has been part of the Special Olympics World Games, the ten players that have been chosen to represent Great Britain in Berlin should feel very proud of the enormous step they are taking.
"The players will of course represent GBR but will also be ambassadors for the sport, their hometown clubs and so many players and clubs that offer Flyerz sessions. Some of the players have represented England previously while for others this will be their first time playing in a national shirt.
"The competition will provide the players and staff with many challenges aside from playing including being away from home without family for this long. We hope that our involvement in this tournament will encourage more people to try hockey, and more clubs to offer hockey to people that have not generally had the opportunity to pick up a stick."
England and GB Hockey CEO, Nick Pink, said: "I'm thrilled to see hockey added to the Special Olympics World Games programme for the first time. What a fantastic experience for the whole team and I hope they make memories for a lifetime.
"Seeing members of the England Hockey Flyerz programme getting to compete on this stage is excellent. We are all committed to the principles of making hockey more diverse, accessible and relevant and I believe that this will lead to the continued growth of the sport. I want to wish the whole team good luck and look forward to seeing the team's results in Berlin."
Full team list below:
| | | | | |
| --- | --- | --- | --- | --- |
| Name | Hometown | Club | Age | Role |
| Jacob Fairweather | Bedingfield, Eye | N/A | 18 | Goalkeeper |
| Thomas Shaw | Wakefield | Wakefield Hockey Club | 19 | Defender |
| Jason Nicholls | Birmingham | Harborne Hockey Club | 37 | Defender |
| Craig Williamson | Sutton Coldfield | Beacon Hockey Club | 18 | Midfielder |
| Rob Crosse | Wakefield | Wakefield Hockey Club | 18 | Forward |
| Jordan Chandler | Birmingham | Harborne Hockey Club | 31 | Defender |
| Reece Brackpool | Birmingham | Harborne Hockey Club | 29 | Winger |
| Ellen Greenall | Tunbridge Wells | Tunbridge Wells Hockey Club | 18 | Midfielder |
| Kath Hyslop | Birmingham | Harborne Hockey Club | 32 | Defender |
| Brooke Lammas | Wakefield | Wakefield Hockey Club | 18 | Midfielder |
If your club is interested in reaching new audiences or wants to get more involved with Flyerz delivery, please drop our Development team a line participation@englandhockey.co.uk