Special Olympics GB Hockey Team scripts history, clinch Gold at World Games 2023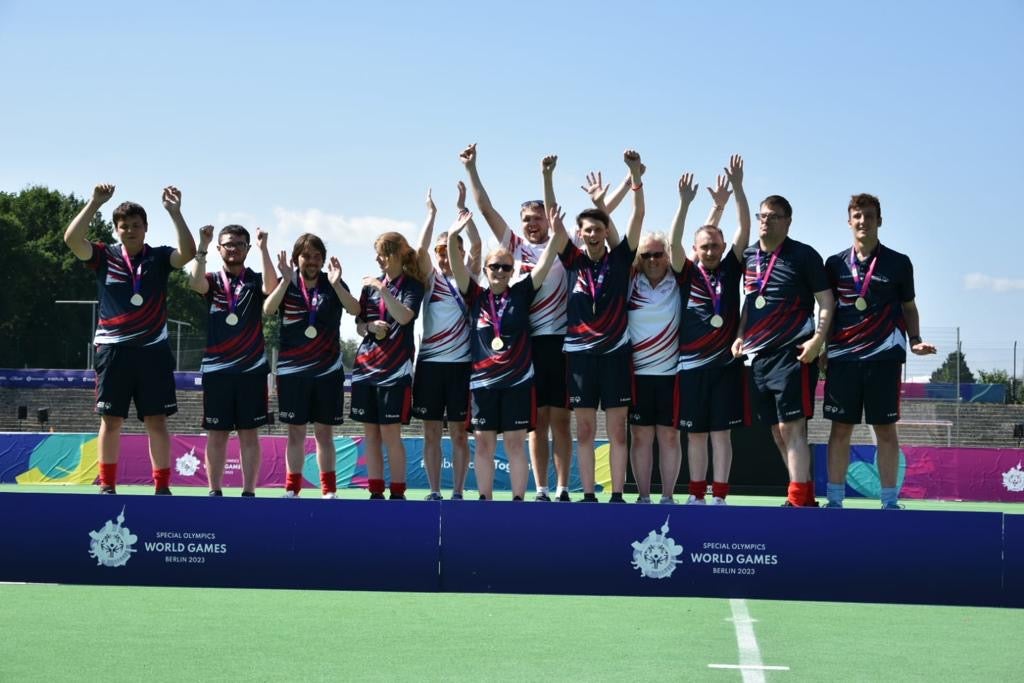 June 24, 2023, will be etched forever in the history of Great Britain Hockey as the Special Olympics GB Hockey Team clinched a Gold medal on their Special Olympics World Games debut, which was held in Berlin from 17 – 25 June.
The 10-member squad registered five wins and a loss in the preliminary round before defeating Paraguay in the Semi-final and Bulgaria in the Final to clinch the historic Gold.
The Jacob Fairweather led side started their campaign with a 6-0 win over Pakistan. Thomas Shaw was the star of the show as he bagged a hat-trick, while Rob Crosse netted twice, and Craig Williamson scored a goal in their team's dominating win.

They went down 1-4 in their second match of the Preliminary Round against Bulgaria. Captain Angel Hilendarov scored all four goals for Bulgaria, while Shaw scored the lone goal for SO GB Hockey Team.

Team GB bounced back in style as they defeated Paraguay in their third match. Shaw continued with his good form as he went on to score as many as four goals, while Williamson and Crosse each scored a goal for GB.

GB then completed a double over Pakistan with a 3-1 win in their fourth match of the tournament. Shaw scored a brace, while Williamson added a goal for Team GB.

Fairweather & Co. avenged their defeat against Bulgaria in the reverse fixture as they registered a 4-1 win to seal their spot in the Semi-final of the tournament. Both the team's leading goal scorers Shaw and Williamson netted twice in the match.

Shaw again starred with a brace as SO GB Hockey Team completed a double over Paraguay with a 3-0 win. Crosse also got on the scoresheet to help the team head into the semi-final round with a clinical win.

Having registered two wins over Paraguay in the preliminary round, Special Olympics GB Hockey Team went on to beat the South American side 3-1 in the Semi-final. Continuing his red-hot form Shaw yet again scored twice, while Ellen Greenall scored a goal to help GB confirm a medal in their debut campaign.

Reece Brackpool opened the scoring in the 8th minute, but Bulgaria equalised through their captain Hilendarov in the 13th minute to end the first half at 1-1.

GB went on to make it 3-1 by the 25th minute through Shaw's brace. Meanwhile, Bulgaria pulled a goal back through Hilendarov, but that wasn't enough as Shaw scored his third and team's fourth goal to help Special Olympics GB Hockey Team create history in Berlin.

Speaking about this incredible achievement, Special Olympics GB Hockey Team coach Lochlann Kaye expressed, "We wanted to come here and play well, we would have been happy with any medal, but to win gold is fantastic. It's a real honour. They've worked hard and it's an amazing feeling to make it all worth it. There were tears, but there's a lot of happiness."

Captain Jacob Fairweather expressed, "I was a bit on the edge in the Final, with what was at stake, but did whatever needed to do in the end. I am really happy, over the moon. I just enjoyed being part of the whole thing, just having a great time with everyone. I feel very proud to represent my country, and with the amazing team I've got, it was an honour to do it with them. Hockey means a lot, just a social side, having fun, winning competitions like we've done here.

Craig Williamson stated, "It's amazing. I've enjoyed every second of it. I've been playing hockey since a young age, my brothers got me into it and all my family is into it. I was happy when I managed to get into the team and now we've just ended up winning it, so I'm even happier."